Content
Abstract
This is a selection of the results generated during "Module 10 – Meaning of Photography".
Module Content: Image content, Image Language, Image Semiotics, etc.
Module Teacher: Roel Stevens.
Assignment 01 – Donor Registration Campaign
Description
Looking at other (similar) campaigns for inspiration and direction, develop a series of 5 images for a donor registration campaign. The campaign is based around the theme "Does your loved one already know you are donor registered?"
The assignment is a group assignment.
Plan
Preparations
Browse the internet and through magazines for similar campaigns and get material from them for input for our own campaign.
Brainstorm with the group and develop moodboard and image content.
Campaign Design
After two brainstorm sessions, we (Daniël Goldman, Christine Heij, Fenna Moojen, and myself) came up with the following theme for our campaign: Showing the message "I am Donor" to a large audience.
Banner behind aeroplane;
Graffiti over famous painting;
Banner in football stadium;
Streaker at tennis game with message on his back;
Banner/Graffiti on squatted house.
As we didn't get press access to the stadium, this image was replaced with an image of a protestor holding the banner on board the Greenpeace ship "Sirius".
Results
| | | |
| --- | --- | --- |
| Ik Ben Donor – Museum | Ik Ben Donor – Squaters | Ik Ben Donor – Airplane |
| | |
| --- | --- |
| Ik Ben Donor – Streaker | Ik Ben Donor – Sirius |
Assignment 02 – Essay
Description
Pick a photographer you like and write an essay of at least 500 words describing a selection of his images.
Plan
I will use the photographer Brassaï as basis for the essay.
Results
The full essay can be found in this pdf document.
Assignment 03 – Associations
Description
Take five images that have a strong association without referring to it directly.
Plan
Here are a couple of ideas:
"Nerd" – Breast pocket of shirt full of pens etc.
"Lab/Medical Research" – Couple of test tubes and other laboratory gear.
"Alcohol Abuse" – Lots ofempty wine bottles and wine glasses.
"Church Goers" – People leaving the church after a Mass on Sunday.
"Light and Soft as a Feather" – Single down feather floating against a black background.
"Seduction" – Portrait of a seductive looking model.
"Oppression" – Large thumb pressing onto small person.
…
Based on feedback from the teacher, the above ideas where still too "literal" and I should redo them.
Here are some new ideas:
"Insomnia" – Digits of a clock showing different times in the middle of the night.
"Insomnia" – TV set showing snow.
"Insomnia" – Bar of Soap (as a reference to Tyler Durden in Fight Club).
"Insomnia" – Fridge opened at night.
"Coping with Loss" – Bear (as reference to the person lost) sitting at a lunch table.
"Coping with Loss" – Bear in a twin bed.
"Coping with Loss" – Bear watching TV.
"Coping with Loss" – Two toothbrushes (one used, one new).
"Lonely" – Bed with only one side used.
"Lonely" – Single used toothbrush.
"Living Together" – Two (differently shaped) used toothbrushes.
Results
| | | |
| --- | --- | --- |
| Insomnia – Clock | Insomnia – TV | Insomnia – Fridge |
| | |
| --- | --- |
| Insomnia – Sheep | Insomnia – Soap (Tyler Durden) |
| | | |
| --- | --- | --- |
| Coping with Loss | Coping with Loss | Coping with Loss |
| Living Together | Lonely | Lonely |
Assignment 04 – Disk Image
Description
From the given set of four (instrumental) songs, take one and create an matching image for it.
Plan
All four songs, for me, had more or less strong associations with them. The first one had the strongest associations so I decided to go for that one. Listening to the song immediately gave me associations with merriment, dancing in line, and flowered curtains. As I didn't have access to flowered curtains or otherwise a 70's setting, I decided to focus on the merriment and dancing.
Results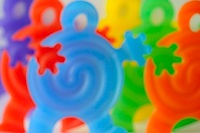 Merry
School Day 01 – Introduction
Introduction of the new module.
School Day 02 – Incorrect use of Image Language
After some background on the working of the brain, we were presented with the case of an image, rejected for a campaign around organ donorship. We all felt the rejection was just as it was using the wrong "language" for the campaign and would not have been effective.
This case is also the basis for (group) Assignment 01.
School Day 03 – Brainstorm
Today was used to brainstorm with the group about "Assignment 01 – Donor Registration Campaign".
School Day 04 – Chamber of Commerce
A presentation at the local Chamber of Commerce (KvK) as well as a discussion of everyone's plans for the different assignments and some further theoretical background.
School Day 05 – Noorderlicht
A visit to the Noorderlicht Photofestival.
School Day 06 – Disk Image and Status
Discussion of our results for the Disk Image assignment as well as the status of the other assignments.
School Day 07 – Reviews
Review of the work to date.
School Day 08 – Homework
A free day, available to work on the assignments (at home, in the studio, etc.).
School Day 09 – Last Updates
Last day to dot the i's and cross the t's.
School Day 10 – Assessment
My Own Learnings this Module
Again, a bit more creativity.
Brainstorming techniques.
Working in a group on a photographic assignment.
Some more background info on psychology and the way the brain works (especially regarding how we look at images).
Input
The following material was used as the basis of the Assessment:
Results of all the assignments.
My own learnings.
Results
Study Points: 6
Advise: None
Additional work required: None