Content
Abstract
This is a selection of the results generated during "Module 08 – Documentary".
Module Content: Reportage and Documentary photography.
Module Teacher: Ruben Schumacher.
Assignment 01 – Event Reportage
Description
Make a reportage (8–12 images) of an event (fair, concert, match, etc.). Take Reuters' guidelines with respect to the use of PhotoShop into account.
Plan
The following two events come to mind:
Koetstock, the yearly music festival in the village of Kockengen. Date: 12 and 13 June 2009.
Marathon Amersfoort 750, a unique marathon through the city of Amersfoort. Date: 14 June 2009.
Initially I wanted to shoot both events. Based on the short time between the two, and the anticipated work-load, I shot only the Festival and its preparations.
Results
From a large selection of "good" photos, a final selection of 10 illustrative shots was created in-class.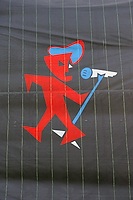 Koetstock Logo
| | |
| --- | --- |
| Construction Material | Fixing the fence sheets |
| Children stacking plastic glasses | Kayleigh |
| | |
| --- | --- |
| Beer | Festival Audience |
| | |
| --- | --- |
| Dr. Phil: Marco Spinello (guitar) | Groover: Jeffry van Mechelen (trombone) |
Why Not!
Assignment 02 – City Reportage
Description
Together with a classmate, create a reportage of a city or village. Both should take images of the same subjects, at the same time. The result will be a series of two similar, but different images.
To illustrate what we should aim for, a selection of images of WassinkLundgren of people on their way to work in Beijing, as published in the NRC M-Magazine in April 2009.
Plan
For this assignment I will work together with Ayu Yusoff.
After first trying out some ideas that didn't seem to work (at least not for us), we decided make a series on the different sides of Amsterdam (people). For this we sat down at a café, and started shooting the different passers-by. Each time, one of use would photograph the front-side, the other the back-side. Ayu would consistently photograph in landscape fashion, whereas I would shoot portait only. This all both literally and figuratively depicting the multiple facets of Amsterdam (people).
Results
The 53 resulting double images have been collected into a single
quicktime movie
.
Assignment 03 – Free Series
Description
Create a series of 8–12 photos of a subject that has your interest and of which you think it should interest others as well. The series should be presented in bound form.
Plan
Having worked on a large project for the Dutch Airforce, I planned to make a series of the Royal Netherlands Airforce Days and airshow at Volkel, 19 June 2009. I will be focussing especially on technique (as that is what interests me most).
Results
| | | |
| --- | --- | --- |
| Red Arrows taking off – BAE Hawk T1 – Royal Air Force | Young Pilot | Pilot getting ready in a Hawker Hunter – Dutch Hawker Hunter Foundation |
| Detail of a UN Armoured Vehicle – DAF YP-408-PW-CO | Watching the show | Lockheed Martin F-16 Fighting Falcon shooting flares – Royal Netherlands Air Force |
| Relaxing with a Beer | Detail of a McDonnell Douglas C-17 Globemaster III | Engine Detail of a McDonnell Douglas C-17 Globemaster III |
| Tail of a McDonnell Douglas C-17 Globemaster III | Two pilots walking away from their planes | Waste |
Assignment 04 – Presentation
Description
In a half hour presentation, present, and compare, the work of two different reportage photographers together with a class-mate.
Plan
Walker Evans and Richard Avedon (!)
Present together with Anouk van Asbeck.
Results
School Day 01 – Street Reportage
Description
Create a series of either one of the following subjects:
Impression of a shopping street.
Impression of a residential street.
Public Transport.
Icons!?
After making a rough selection of shots yourself, the final selection and ordering will be done in-class.
Plan
Create a reportage of (people) eating and drinking at the various establishments in the
"Kalvertoren Shopping Center".
Results

Eating and Drinking in the Kalvertoren Shopping Center

Eating and Drinking in the Kalvertoren Shopping Center
Abstract version
School Day 02 – Review
Documentary of photographer Sebatião Salgado.
Review and rough selection of the first results of the Street Reportage as well as feedback to improve the series.
Status of everyone's module assignments.
School Day 03 – Street Reportage (continued)
Second take at the Street Reportage series.
Review and selection of the final images for this series.
School Day 04 – World Press Photo 2009
Apart from room for feedback on everyone's progress with the module assignments, we visited the World Press Photo 2009 exhibition in the Oude Kerk.
School Day 05 – Copyright
More room for feedback on our progress as well as a presentation on (Dutch) Copyright Laws.
School Day 06 – Review
Another day of feedback sessions.
School Day 07 – Presentation
Today Anouk and I held our presentation on the two reportage photographers as developed for
Assignment 04
.
School Day 08 – Presentations
Final day before the assessment, filled with the presentations of the other groups as well as a lecture by reportage photographer
Dana Lixenberg
.
School Day 09 – Assessment
My Own Learnings this Module
Reportage and People Photography can be fun!
Input
The following material was used as the basis of the Assessment:
Results of all the assignments.
My own learnings.
Results
Study Points: 6
Advise: None
Additional work required: None